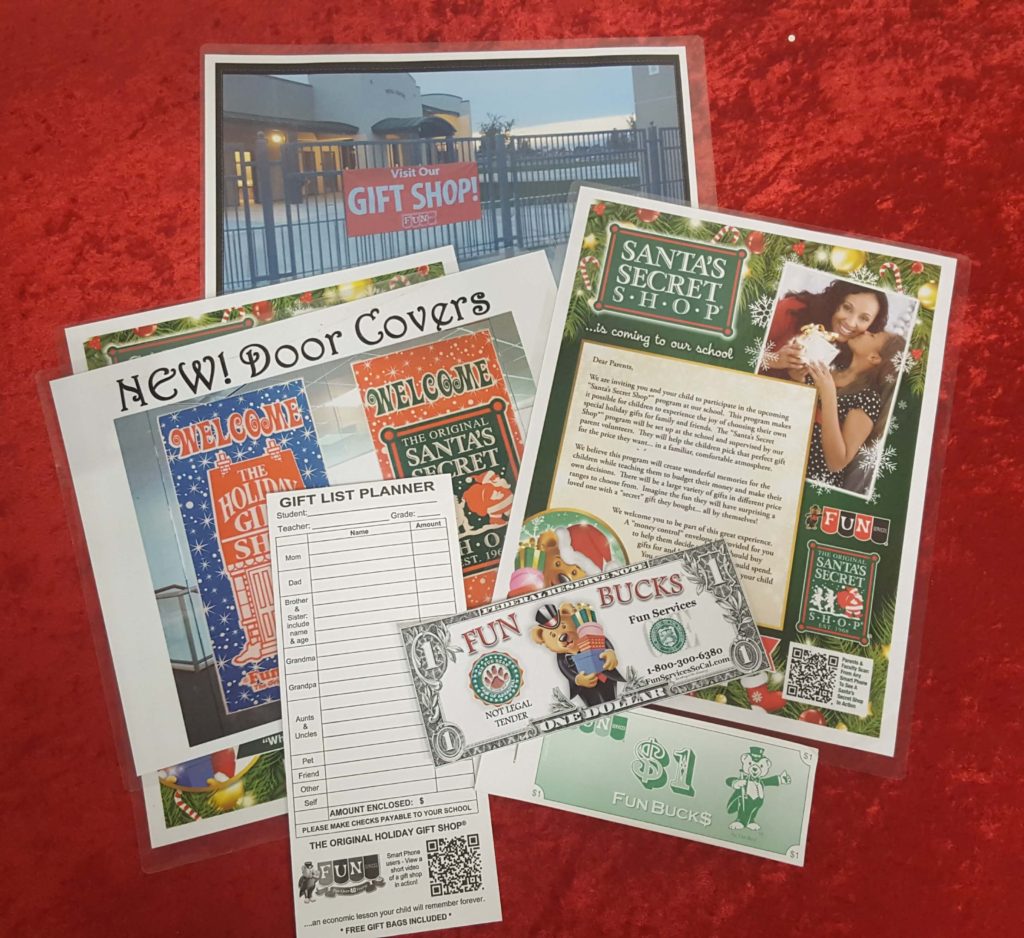 No Need for a Marketing Budget to Promote the Holiday Gift Shop
I want to sign up for the holiday gift shop but I don't have money in the budget for marketing. How do I promote the program? Fun Services provides everything for you to promote your shop! We are preparing promotional packets, called Starter Kits, right now to ship out approximately one month in advance.
Your school will receive parent letters/flyers, money envelopes, posters, banner, and a promotional guide. What else would you need? Nothing. We understand how busy parents and school representatives can be so we have simplified the program for you.
Parent letters can be requested in English, Spanish or bilingual with one side in English and the other side in Spanish. On the letters/flyers, you can write the store hours and location or room that the shop will be held in. We can also provide you with a PDF version if you have a way to send an email to families. If your school has an all-call system, then you can abbreviate what is written on the letter to use for your phone message.
Money Envelopes are given one per student based on your enrollment. Money envelopes are designed to encourage families to sit down with their child and discuss a list of friends and family members they child can shop for, a budget per person, and ways the child can earn money. Send out their money envelopes early so they can start saving their money and place it directly into their money envelopes.
Placing Posters around campus is a great way to promote your program. We provide two that you can place on the doors of the room where you plan to hold the shop.
A Vinyl Banner is provided to you to place at the front of the school or near the student drop-off zone.
Fun Bucks are earned by enrollment and past sales. This is free spending money for your school to use at your discretion. You can give them to students with no spending money, incentives for good behavior or attendance, designate for students completing special tasks, give to volunteers or special helpers, or to keep at the cash registers of students short on cash for purchases. Contact us for fun ways other schools use the Fun Bucks.
Finally, we will provide you with a Promotional Guide emailed to you with tips for promoting your shop, tips for encouraging parents to volunteer, and what to do with the materials in your Starter Kits.
The starter kits are going out soon! Give us a call and we can help you sign up so you can start promoting the shop early. If the shop is a fundraiser, the more you promote the program, the more money your school will earn. In addition, you can earn incentives. Sales incentives range from additional Fun Bucks, Loyalty Bonus Points towards free rentals, Playground Balls, Kindle Fires, Amazon Echo or 32" TV.
Sign up online at https://fungiftshopssocal.com or give us a call 800-300-6380 for more details.