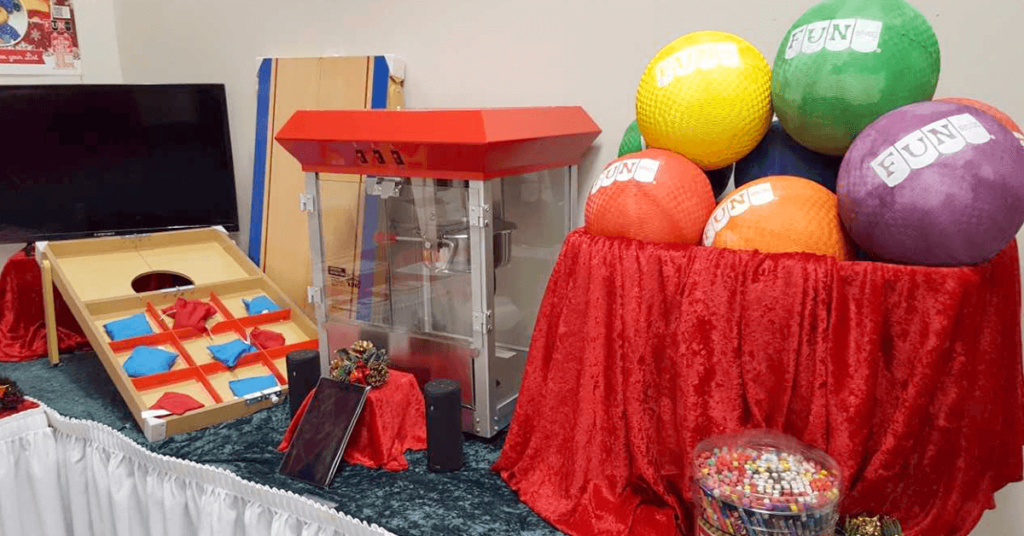 Winner Winner Winner
Are you feeling lucky? Fun Services likes to have fun, and therefore always creates opportunities for our loyal and new customers to win prizes!
Visit one of our Open Houses. We have a traveling showcase at Marie Callender's locations from Bakersfield to Victorville to San Diego. And of course, we have our famous Open Houses at our home office where we take over the entire outdoor lot and set up carnival games and attractions including mechanical rides, casino tables, holiday gift shop, catered lunch and more! You receive a complimentary lunch, can check out our new games and holiday gift items and will be automatically be entered into a drawing. You could win prizes such as a Corn Hole Game, Tub of Pencils, Playground Balls and Giant Stuffed Bear.
If you can't make it to one of our open houses, that is okay, we still have an opportunity drawing. You could be one of our Lucky 7! When you complete the application to sign up for our Holiday Gift Shop, then you are entered into our Lucky 7 drawing. Once a month, beginning in February, we pull from a list of names and if your school's name is drawn, you win! Prizes include a Kindle Fire, 12 Playground Balls, Popcorn Machine, Amazon Echo, Corn Hole Games. If you haven't signed up yet, do it now. We still have a drawing for September and October!
Do you want to guarantee you will win? We give away Early Sign-Up Incentives for the Holiday Gift Shop. If you ran the Gift Shop in the past, you will want to sign up again immediately. Early Sign-Up Incentives vary from year to year. This year we offered a Treasure Chest filled with gifts. Some schools gave them to their principal, teachers, parent volunteers, held raffles, offered as awards or sold at their school. You could also acquire other prizes such as Playground Balls, Tub of Pencils and Aprons.
You may be wondering how schools are able to sign up in January or February when their new board hasn't even been nominated yet. We get It, just sign up under contingency of new board approval! Once the board is elected and they approve running the gift shop, you are all set to receive the Sign-Up Incentives. However, you won't be entered into the Lucky 7 drawing until someone signs the agreement.
After you run your Holiday Gift Shop, we have prizes for you based on your Holiday Gift Shop sales. For sales $500 or under, you receive additional Fun Bucks, free spending money for your school to give to teachers, volunteers, families limited financially, awards, etc. For sales between $501 and $2,999, you receive additional Fun Bucks and 12 Playground Balls or a Kindle Fire. For Sales $3,000 to $4,999, you receive additional Fun Bucks and 2 Kindle Fires or an Amazon Echo. For sales $10,000 or more, you receive additional Fun Bucks and 4 Kindle Fires or a 32" TV.
Okay okay, there is one last prize you can earn. We offer Loyalty Bonuses. Run your Holiday Gift Shop in consecutive years and earn points. 15,000 points you acquire $450 in free rental, 30,000 points is $900 in free rental, 50,000 is $1500 in free rentals.
To find out about our Open House schedule, visit https://fungiftshopssocal.com/open-house-schedule/. To find out how to sign up for the Holiday Gift Shop or request more details about prize opportunities, call 800-300-6380.